You are invited to submit your research to This email address is being protected from spambots. You need JavaScript enabled to view it. who maintains this page.
Please make sure of your documentation and that it is based on thoroughly verified information. If possible please cite original documents which may include Ships Passenger Lists, Wills, Deeds, Newspapers, Bibles, tax rolls, painted portraits, church registers and tombstones.
OUR EMAIL POLICY: Email addresses are encouraged but not mandatory. If they are listed on this page, explicit permission was given to post them. Any email shown will be removed immediately upon request.

Whenever you see a Ref # or ID # it is connected to a web address where contact information is posted.
Abbreviations: b means born, c means about or circa, m means married. PFG, An entry can be attributed to a Family Group by PFG (Phillips Family Group), for example PFG #20. This means that the entry pertains to or is thought to pertain to the specific Family Group in the Phillips DNA Project. Please see the lineages pages www.phillipsdnaproject.com
1604 Philipps, Alice b 1604 Plymouth, MA, m John Shaw c 1623 Plymouth  ID: I62613745
1617 Phillips, Hannah b 1617 Boston, Suffolk, MA, ID: P1244
1623 Thomas Phillips, Henry Phillips, John Phillips, Eliner Phillips, John Philips, Thomas Philips All apparently living on different plantations
         which are named   http://www.gutenberg.org/files/22594/22594-h/22594-h.htm   (This email address is being protected from spambots. You need JavaScript enabled to view it.)
1630 Phillips, Nicholas (a deacon), came to America c 1630, Ref 8179
1635 Phillips, Richard b 1635 son of Phillips, Nicholas (a deacon), came to America c 1630, Ref 8179
1640 Phillips, Mary b 1640 Kittery,York Co., ME, ID: I9046
1644 Phillips, George d 02 JUL 1644 Watertown, Middlesex, MA, ID: I28730
1650 Phillips, Theophilus b c 1650, by 1670 he was a clerk Middleburg, NY  Group 20 PFG This email address is being protected from spambots. You need JavaScript enabled to view it. 
1654 Phillips, Hannah b 1654 Weymouth, MA, ID: I151396
1662 Phillips, James Stephen b 1 Jun 1662 Newport, RI ID: I81925, Group 11 or 36 PFG
1664 Philipse, Philip b 1664 New York, NY, ID: I08955
1672 Phillips, Roger m Dorothy Clark 1672 in Louisa County, VA, Group 7 PFG 
1687 Phillips, Tobias b 1687 North Farnham Parish, Richmond, VA, ID: I881, Group 17 PFG
1690 Phillips, Susanna b 1610 England d 1690 Ipswich, Essex, MA, ID: P14514
1719 Phillips, John Dr., b 1719, Andover MA, http://www.archive.org/stream/phillipsgenealog00phil/phillipsgenealog00phil_djvu.txt
1754 Phillips, John m Esther Rees 14 Apr 1754, New Hanover, Montgomery, PA, Ancestry.com Marriages
1758 Philipps, Gabriel m 1758 Bucks Co., PA, Tohickon Church Registry, (later spelled Phillips) (This email address is being protected from spambots. You need JavaScript enabled to view it.) Group 9 PFG
1771 Philips, John m Esther Tod, 11 Jul 1771, Churchville, Bucks Co., PA, Ancestry.com Marriages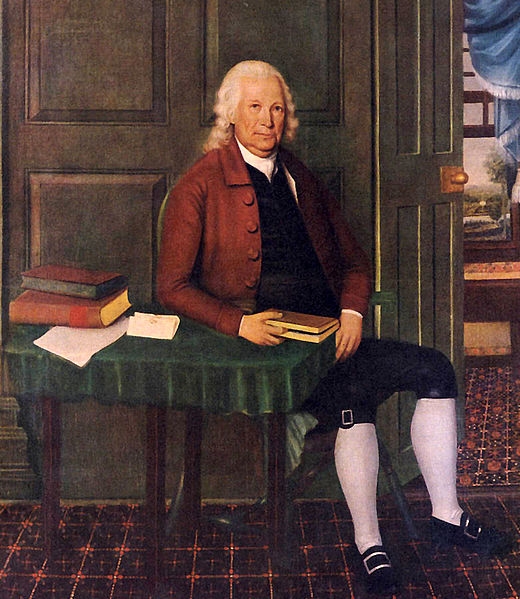 Seeking images of Phillips, male or female, before 1775. I doubt if
this is the earliest so please let me know about your discoveries.
c 1794 John Phillips (1719-1795), founder of Phillips Exeter Academy,
Exeter, New Hampshire. By Joseph Steward