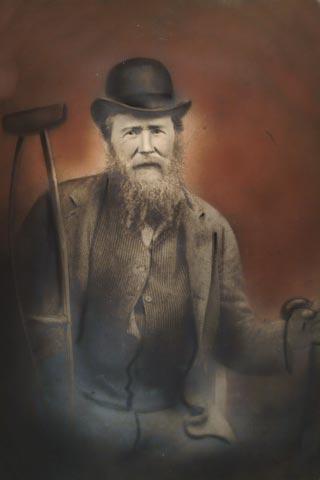 Zachariah David Phillips (Z.D.) was born in 1841 in Nelson County, Virginia.  He grew up near Lovingston, Virginia, which is a few miles south of Charlottesville and the University of Virginia.    Zachariah was orphaned when he was 13 years old when his father Nelson Phillips died.   His mother Rosamond was still living, but the court appointed a guardian.  Z.D. died in 1910 at his home near Wintergreen, Virginia, in the Rockfish Valley.  
Putting aside a tradition of farming by the men in his family and leaving his bride-to-be, Z.D. along with two brothers Charles and Joseph, joined the efforts of the South in the Civil War.  Zachariah enlisted on April 17, 1861, in Nelson County, Virginia.  He served with the 49th Virginia Infantry Regiment, Company H, "New Market Volunteers." New Market was a very small town on the James River near his home.  He was mustered into service at Charlottesville, Virginia. 
War was not new to the family.  Z.D.'s  father, Nelson G. Phillips, had served in the War of 1812, and his grandfather, Matthew Phillips, was a private in the Revolutionary War.  Matthew served with Captain Samuel Jordan Cabell in the 6th Regiment of Foot from Amherst County, Virginia.   
Z.D. was first wounded on June 29, 1862, but was wounded severely on May 5, 1864, during the battle in the Wilderness at Cold Harbor. He received a gunshot wound in his right leg and the leg had to be amputated. He applied for disability in February 1865.
After his release from the Army, Z.D. worked as a postman, teacher, and farmer.     Z.D. and Lucy Jane Bryant were married after the war ended in 1866, and they subsequently had seven children, five boys and two girls.   All five sons and one daughter lived nearby in the Rockfish Valley.   One daughter died very young.   
Z. D. was a "character," full of enthusiasm and energy.  The loss of his leg didn't slow him down.   He drove a wagon furiously through the Valley bringing the mail from the railroad station in Afton.   He never spoke a word of regret about his war injuries; in fact, he stated often that he was proud of his service to his country. Zachariah called himself the "Old Turk" because he said he fought like a "Turk for the 49th Regiment of Virginia."