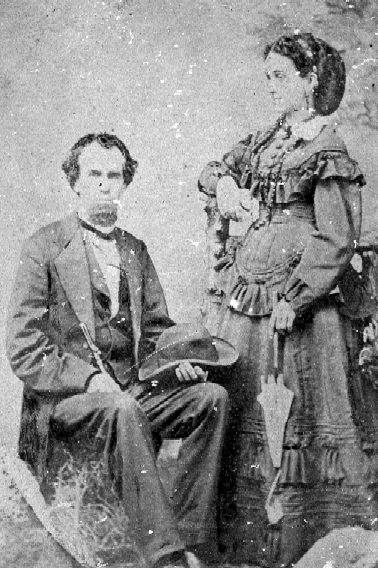 This is a photo of my GG Grandparents, RW Phillips (b.11/15/1830-d.4/3/1903) and his wife Annah Rebecca Eletha Pritchett (b. 3/22/1837-d. 8/2/1897).
RW Phillips was the son of Wiley Phillips (1791-1875) and the Grandson of Maj. James Phillips (1759-1831), a Revolutionary War Veteran from Craven Co., NC. His wife Annah Rebecca Pritchett was the daughter of William H. Pritchett(1795-1857) and Cinthia McClendon(1804-1850).
RW Phillips graduated from Mercer University and later studied law under Gen. Burney of Jasper County. In 1860, RW moved his family to Valdosta, after purchasing land from William Wisenbaker.
During the Civil War he enlisted three times. First, in 1861, he was a 2nd Lt. with the 12th Regiment, Co. I, but discharged a few months later for health reasons. As the Civil War continued, he later re-enlisted two more times, serving as an Adjutant of two different Regiments.
After the Civil War he moved his family one county to the east in GA. Once the family was settled in Echols County, he was elected and served as a State Reprensentative for Echols County from 1868 to 1876. Around 1878 he moved south into Hamilton County, FL, where he taught school for a few years.
There are conflicting dates, but about the year 1881 or 1882, RW Phillips was appointed and served as the Judge for Suwannee County, by Gov. Perry of FL. He lived out the rest of his years in Suwannee County, known to everyone as Judge Phillips.