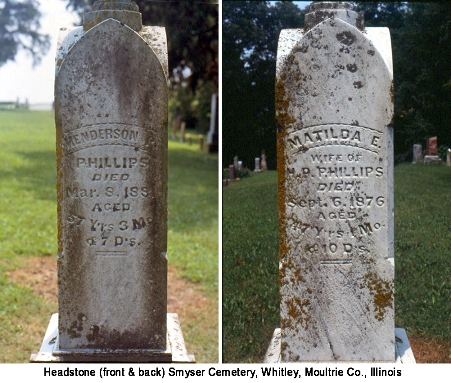 This is the headstone of Henderson P. Phillips and his wife Matilda.  H.P. was the son of Beaty Phillips(1800-1842). H.P. Phillips was born 01 Dec 1825 in Washington Co. TN and died 08 Mar 1881. He is buried in Moultrie Co., IL.
H.P. Phillips moved to Moultrie Co., IL, after the death of his father and was married on 02 March 1847 in Moultrie Co., IL to Matilda O. Waggoner. Matilda was born 27 Jul 1829 in Whitley, Moultrie Co. or Windsor, IL and died on 06 Sep 1876 in Moultrie Co. IL. She was the daughter of John "Jack" & Emsey (Padget) Waggoner.
Headstones for two of their sons are in the same row: William M. Phillips (1853-1854) and Robert Henry Phillips (1851-1854). There is space between the stones where other family members may be buried.
Other children of HP and Matilda are Louisa Jane Phillips born 1848, John J. Phillips born 1850, Samantha J. Phillips born 1855, Garland Marion Phillips born 1856, Henderson Frazier Phillips born 1857, Herchel Hiram Phillips born 1861, Russia A. Phillips born 1862/63, Belle A. Phillips born 1864/65 and Charles S. Phillips born 1867/68.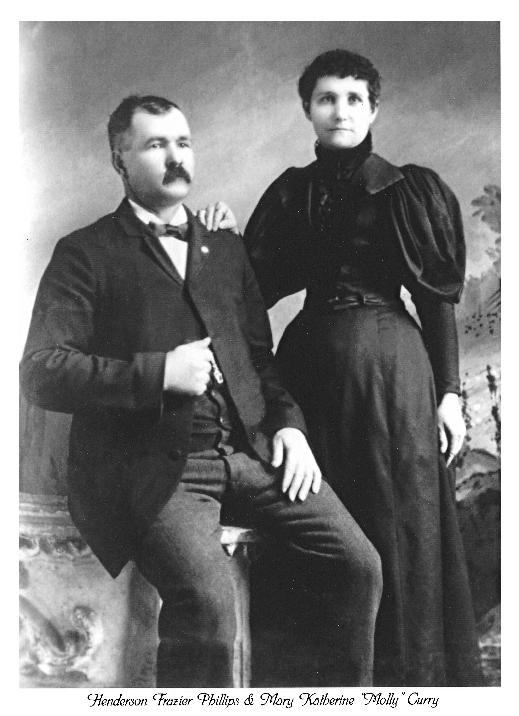 Henderson Frazier Phillips and his first wife, Mary Katherine "Molly" Curry. Henderson Phillips was born 19 Jun 1857 in Mantoon, Coles, Illinois and died 29 Aug 1925 on his farm in Akron Township, Wilkin, MN. He married Molly on 02 Sep 1880 in Coles, Co., IL.
Mary Katherine Curry  was born in 1859 in IL and died of cancer in 1900. She is buried in Union Cemetery St. Paul, Minnesota. Her parents were: Robert N. Ellis & Drusilla (Akers) Curry.
The children of Henderson & Molly are Robert Henderson Phillips 1881, Bertha Belle Phillips 1882, Edward Phillips 1883/85 who died in infancy, Lois A. Phillips 1886 and Elmer Herchel Phillips 1888.
Henderson F. Phillips was a Presbyterian and according to the following census data, had these occupations.
1895 Minnesota Territorial and State Censuses > Dakota > South St Paul Ward 1.  Listed as "Weigh Master".
1905 Minnesota Territorial and State Censuses > Ramsey > St Paul Ward 10 subdivision A precinct 2 > 1500 Blair St.  Listed as "Insurance Agent".
1911 Living at 259 E. Robie St., St. Paul, MN.  Listed as "Insurance Solicitor".
1920 U.S. Census - MN - Wilkin Co. - Akron - ED #251 - Line 20. Phillips, Hudson.  Listed as a "Farmer".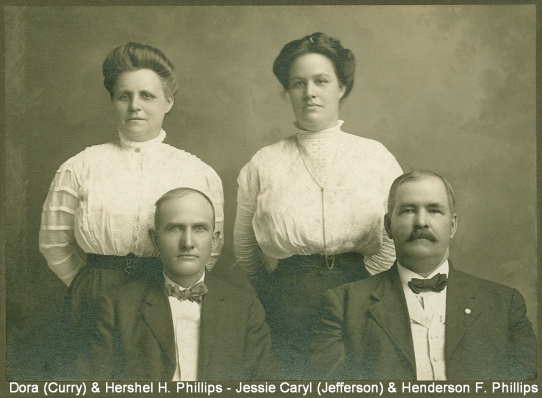 Henderson Fraizer and his brother Hershel H. Phillips and their wives. These two brothers are  the sons of Henderson P. Phillips(1825-1881) who came from TN to IL.
Henderson was married on 09 Jun 1904 in St. Paul, Ramsey, MN to his 2nd wife, Jessie Caryl Jefferson. She was born 22 Dec 1878 in St. Paul, Ramsey, MN and died in May of 1932 at the University Hospital in Minneapolis, MN. She was the daughter of Thomas Valentine & Jane Isabella (Patterson) Jefferson.
The children of Henderson & Jessie Phillips were Walter Jefferson Phillips 1905, Gordon Phillips 1906, Helen Caryl Phillips 1911, Dorothy May Phillips 1913, Charles Wesley Phillips 1915, Bruce Wilson Phillips 1918 and Margaret Ruth Phillips 1923
Hershel Hiram Phillips was born in 1861 in Illinois. Hershel's wife Dora Curry was the sister of Henderson's first wife Molly who died of cancer.