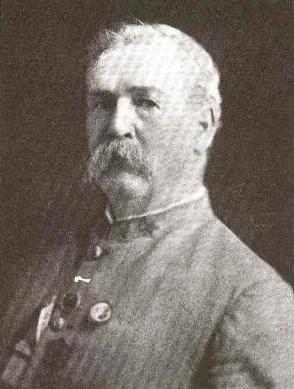 Benjamin Franklin Phillips was the son of Wilson Hartwell Phillips and Nancy Trousdale and the grandson of Jack Phillips and Sarah Quillen of Lauderdale County Alabama.
He was born 11 Mar 1844  during the short time his parents lived in Corinth, MS.  After his return from the War of Northern Aggression he married Mary Parthenia Smotherman on 13 Feb 1868 and settled down in Lauderdale County. 
In 1885 he loaded up a wagon and headed to Arkansas.  He farmed for a while on Arbuckle's Island in the Arkansas River near Ft. Smith.  After a few years he moved again to Pottawatomie County Oklahoma where he bought a farm near his cousin, Billy Trousdale.  Billy was the first sheriff of Pottawatomie County.  The small town of Trousdale, OK grew up around them but withered and died when the railroad bypassed the town.  This is where he would stay and raise his family. 
He died on 24 Feb 1919 while visiting his daughter Molly in Lavaca, AR.  He is buried in the Wanette Cemetery in Wanette, OK which is near Trousdale.   
He fathered seven children: Mary Eliza "Molly", James Hartwell (my grandfather), Albert Thomas, John Andrew, Ben Franklin, Jr., Samuel Lee and Kirby Wilson   All but Kirby were born in Alabama.  Kirby was born in Boone, AR on the trip north.