How does this forum work?
Probably the best way to explain how this forum works is to make the comparison of it with Genforum or Ancestry.com's community posting boards. Except! This is a super Forum. You can upload family photos, tell the world what your family's website address is and swap gedcoms if you like.

Under the title Community are many different forums. Think of them as different surnames like in Genforum, but they are topic specific. You can start a new thread(topic) of your questions or discussions under the forum that would best match. There you can post questions you are seeking to be answered or post information to discuss with other researchers. Other users then can reply to that thread, subscribe to email notification for replies or you can RSS feed it to your RSS reader. You can reply back to their reply and so on until the thread(topic) is no longer replied to. The upside is that you are allowed to edit your posts. Something that Genforum or Ancestry does not allow.

If none of the threads apply to your question(s) or what you would like to discuss, just start a brand new thread under the forum that would best categorize your new thread(topic).
How do I log in so I can post?
Logging into the forum can be done at the top of the forum, right below the phrase "Welcome Guest." When you log in, you set a cookie on your computer so that you can post replies to threads(topics) or start new ones. Logging out clears that cookie off of your computer and tells the forum you have left to ensure nobody else can browse the forum as you. To log out, click the log out link in the same place you logged in. If you prefer you can use the remember me feature when you log in to eliminate the need of logging in every time you return to the forum. The next time your visit the forum, your computer will be recognised and be able to post right without you having to log back in. In the event you do want to log out and you cannot(this is uncommon), deleting the cookies off your computer will have the same effect. In the same line of thought, if you regularly delete your cookies, the remember me function will not work the next time visit the forum. You will have to log back in.
This forum uses boardcode
You can use boardcode, a simplified version of HTML, in your posts to create certain effects. The easiest way to learn what these codes do is to post, post and post some more. The editor you will use to make a post has many of these codes built in for easy of use. Below is a picture of the top of the editor. Your username will automatically appear in the Name space. If you are posting a new thread(topic) you will have to type in a Subject. If you are replying to a thread(topic), a [Re] will appear in the Subject area, followed by the actual Subject of the thread(topic). Pick a topic icon if you like. They will appear in the listing of the threads(topics) and make it easier to see if you have a question, information or in need of help.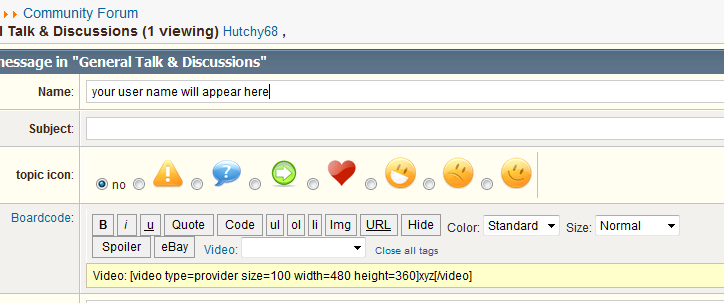 The next image show the post editor in use. As you can see, you can just type a plain text post like in Genforum or on Ancestry's Community Board. This forum will allow you to upload and insert photos, give others links and much more.  Please take notice of the quick buttons to help you achieve this type of formatting. Just click one and go back and insert what you like in between the [startcode] and the [/endcode]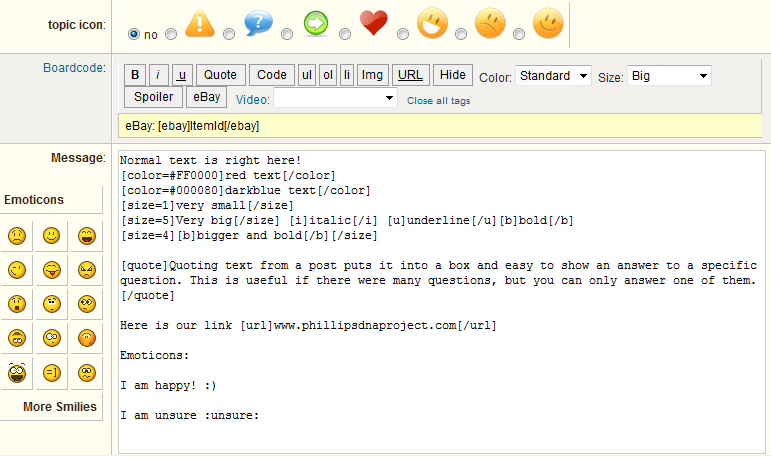 The next image is what the above image looks like once you post it. You can also use the preview button to make sure it will look like you want it to when you do finally post.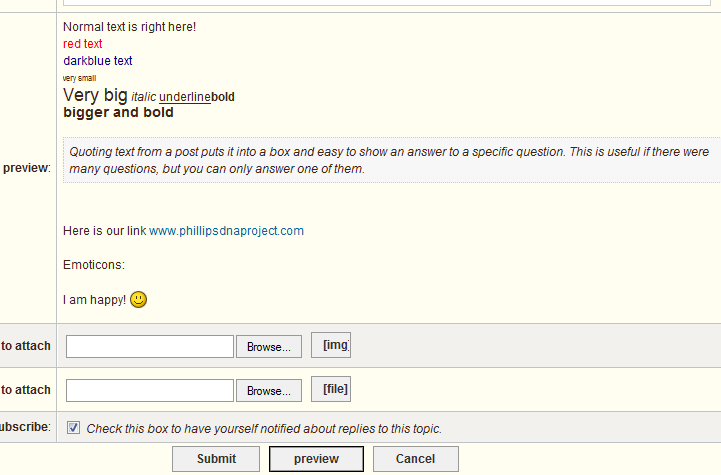 Of course don't forget to check the box to have yourself notified about replies.