Instructions for how to join the Phillips DNA Project Website.
PLEASE READ entire article first. The most important thing to do is add the listed email addresses to your contact list, otherwise you might not get the registration confirmation email.
When you create an account, you are automatically enrolled to receive the Current Project News emails. 
1. A new page will appear that will guide you through registration. Name (must be First and Last, or if you don't want to use your Last Name, put the Initial of your Last Name, no period), username, password, confirm password, click small box to put a check mark in accept terms and then enter the code to verify that an actual person is registering and not a Spam Bot. You may use the arrows in a circle to refresh this image until it is something readable for you.
2. Click 'Register' at the very bottom.
3. Await an email. Do not forget to check your spam or junk mail folder. This is an excellent time to add phillipsdnaproject.com to your list of acceptable domains that may email you. If your email program does not have that capability, you should add the following contact emails to your list of contacts. This will insure that you will always be able to get important emails from the project. They are: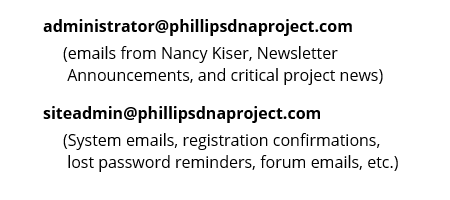 Please Note:
*Each one must be entered individually as one of your contacts.
*Yahoo mail can delay your incoming emails from some sites for up to 6 hours as they are processed through spam filters.
4. You must click on the link in the email to confirm your registration.   Until that is done you will not be able to log on. When you click on the confirmation link, your browser will open, and you will get a message that confirms you have now been registered.
5. Click on 'Home' from the top menu bar. From there you may click "Log In" in the top right corner.  A panel will appear on the page again and you may Log In.  You may also check the "Remember Me" and when visiting the site, you will always be logged in.
6. You will now have posting privileges in the Phillips DNA Project's forum and can manage your subscription to Phillips DNA Project's Current News.